Head Teacher Welcome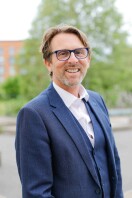 As Head Teacher, I would like to offer you a very warm welcome to our wonderful school.  River View has been delivering high quality education at the heart of the community for over 10 years and during that time we have gone from strength to strength.  It is a privilege to work alongside a fabulous group of staff who are all dedicated to getting the very best outcomes for our children. We believe that investing heavily in training all our staff so that they can deliver the best outcomes for our children and this is something we are passionate about here at River View. 
We have fabulous grounds with lots of areas that children love to play in: an amphitheatre; a walking and cycling track; our own orchard and pond; outdoor table tennis tables and multiple pitches for a variety of sports to name just a few!  Inside, our building is bright, airy and excellently maintained.  We invest heavily in the best equipment so children have technology at the touch of their fingertips.  I walk through our school grounds every day and feel honoured to work in such an amazing place for children to learn. We pride ourselves on the strong links we have built with our community partners and local schools. 
Once your child becomes a member of our school community, we can assure you that not only will your child leave us with the highest possible standards of English and maths but most importantly as a well rounded, happy child who is very well prepared for the next stage of their education. You can be sure that River View is an excellent choice for your child.
We routinely undertake self-evaluation to capture what is going well and what we need to do to improve. This informs our improvement plans for the year. 
Mr D Gauld
Head Teacher
River View Report to Parents 2023